It is that time again...
Forrrr Five Question Friday hosted by Mama M....
over at My Little Life....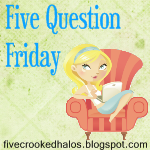 1.
If you could have any talent and turn it into an occupation, what would it be?

I do not have any talents...lol....I can swim, and it was my occupation for the longest time! I coached, taught swim lessons, etc. I miss swimming soooo much! I have to join a gym with a pool soon...so I don't go crazy!
2.
Would you rather have a house at the beach or a cabin in the woods?

How about a house in the woods on a lake? Does that work? I love the water (see above), and we like the woods, we live in them now! :)
3.
Is there any meaning or reasoning for the names you chose for your child/children?

Yes, Arabella means "answered prayers", we chose this because we were trying for such a long time to have a baby, and she truly answered our prayers :)
4.
What is your guilty pleasure?

Reading, Swimming, Dove ice-cream bars!
5.
Do you live in a house that is deep cleaned or straightened?

Always cleaned! Dave is a FREAK when it comes to it....I am organized, but he even vacuums rooms EVERYDAY that we never use!!
And now for the BLOG HOP! :O)
If you came from the hops and decide to stick around and stay awhile just let me know and I will follow you back!