Welcome to the Ecstatically Us version of 5QF!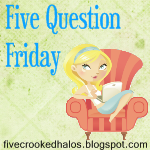 1.
Would you prefer having people over for dinner or going to their house? Have people over for dinner! We haven't had many people over since we have renovated the house (we are still renovating and will be having a "House Warming Party" soon)...and having a 18 month old out at night is hard! I'd love for them to come here so I can put A to bed...AND we can
party (party...or play blokus...seriously...a dangerous game)
2. Favorite Bible verse and why?
Jeremiah 29:11
"For I know the plans I have for you," says the Lord. "They are plans for good and not for disaster, to give you a future and a hope." Obviously we have struggled with pregnancy...and this gives hope to others who are also struggling with pregnancy loss and infertility.
And although it is not a Bible verse...I have always had the poem "Footprints in the sand" memorized.
3. What was the first concert you ever attended, and the most recent one? The first concert was when I was 5...of course it was NKOTB (New Kids on The Block)....and the most recent concert was Kenny Chesney...he always does this big thing at the end of August...and we always go!
4. The year is 2025. What are you doing, and what have you done? In 13 years I will have had more children....I will have been teaching for quite some time....I will have a teenager who most likely wont like me (14 is when they stop liking you right?)...I will have put an addition on the house...and have been on some amazing FAMILY Vacations! And maybe a GIRLS ONLY Vacation (yes...Maggie, Emily, Jenn and Nicole...I'm talking to you)!

5. What's your favorite Easter treat? The Mini Cadburry Eggs!!!! And for me a treat is watching movies!!! :) Of course I love watching "The Easter Parade"...and drinking Tea...I know, lame-o...but that is my favorite thing to do...at least since I can remember! But I also am looking forward to A...and watching her light up with excitement about the eggs and the presents from the Easter Bunny!
I hope you have a GREAT FRIDAY!!!!!!!!!!!!!!!!!!!!!!!!!
XOXO,